Return/Repair Request Form
To initiate an Energizer return or repair, an RGA number is required. Please complete the form linked below and return it via fax to 800-800-1770 or email RGA@woodstream.com.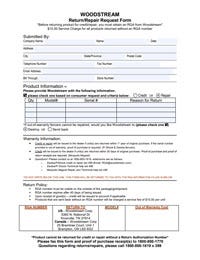 Please be sure to complete the form with as much detail as possible. Model number, serial number, reason for return per unit, and store contact information are required to process an RGA. A copy of the sales receipt should also be included so that date of purchase can be verified.
Woodstream strives to respond to all RGA requests within 48 hours of receipt of the submitted form. The RGA number and shipping instructions will be provided to the contact information on the request form.
If you are returning fencers for credit, the credit will be issued after the product has been received at our facility.
If you are returning fencers for repair (IW & OOW), our Corporate Service Center will evaluate your return within 5-7 business days from the receipt and contact you to discuss any applicable charges for the pending repair. Once we have received your approval, the repair will be executed and return shipped to your location.
If Woodstream is unable to repair an IW fencer, a new or refurbished unit will be sent.
If Woodstream is unable to repair an OOW fencer, we will destroy the fencer unless otherwise noted on your initial request.
Payment for out of warranty repairs will be charged to your Woodstream account and is due within 15 days after receiving the fencer.
Please note: in the case of repair RGAs, the customer is responsible for shipping to Woodstream's Corporate Service Center. Woodstream will cover the cost of return shipping.
If an RGA number is not obtained prior to sending products back, a $15 service fee per unit, will be applied.
If you have any questions about the return or repair process, please call 800-800-1819 x399 or email us at RGA@woodstream.com
RGA Request Form »