Andy Woolworth honored with Legend Award at the recent Mid-State's Distributing Awards Banquet
Lititz, PA - August 22, 2019
We are pleased to announce that Andy Woolworth, Senior Vice President of Sales, was honored with the Legend Award at the recent Mid-State's Distributing Awards Banquet. Andy received his award to a standing ovation of an estimated 1,000+ vendors, merchants, member-owners, and Mid-State's distributing personnel.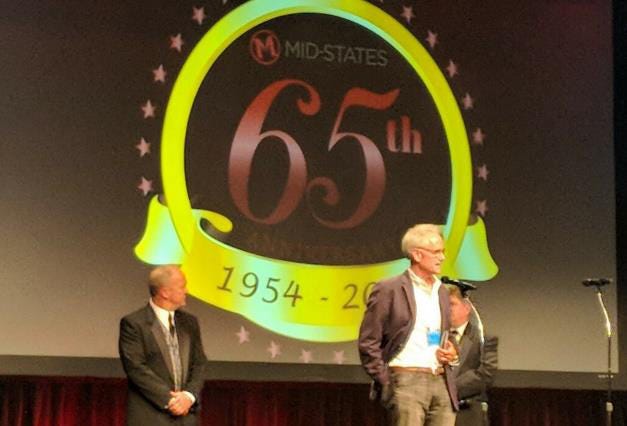 The Legend Award recognizes an individual who has contributed significantly to the culture, growth, and success of Mid-State's Distribution and their affiliated members. Historically the award has been bestowed to vendor partners and is one of the highest honors presented during the banquet. Tom Mahlke, President and CEO of Mid-State's presented the award noting Andy's leadership in identifying Mid-State's core values of Faith, Family, and Patriotism. Tom emphasized how Andy offered a real perspective of Mid-State's Core Values in action; highlighting them as keys to future success and distinct from other retailers
Founded in 1954, Mid-State's Distributing has become one of the nation's largest retailers in the farm store channel. Mid-State's currently has 38 members, employing over 30,000 associates, with over 700 store locations in 33 states and 5 Canadian provinces. Woodstream is one of Mid-State's top vendors. In total Mid-State's contributes $8M in annual revenue and is growing! Some stores stock over 200+ Woodstream items across Woodstream brands. As a leader in the farm store channel, coupled with Woodstream's TOP-SELLING brands, Mid-State's represents one of Woodstream's top growth opportunities. Andy's award reflects nicely on his extensive efforts and Woodstream.
About Woodstream
Woodstream is a global manufacturer and marketer of a broad portfolio of branded pest control and lawn & garden products, under brands such as Victor®, Terro®, Perky-Pet®, Havahart®, Safer®, Sweeney's® and Mosquito Magnet®, among others. The company's products, which have leading market share positions within their respective segments, are sold at more than 100,000 retail locations and to professional pest control providers throughout the United States, Canada, the United Kingdom, and other international markets.